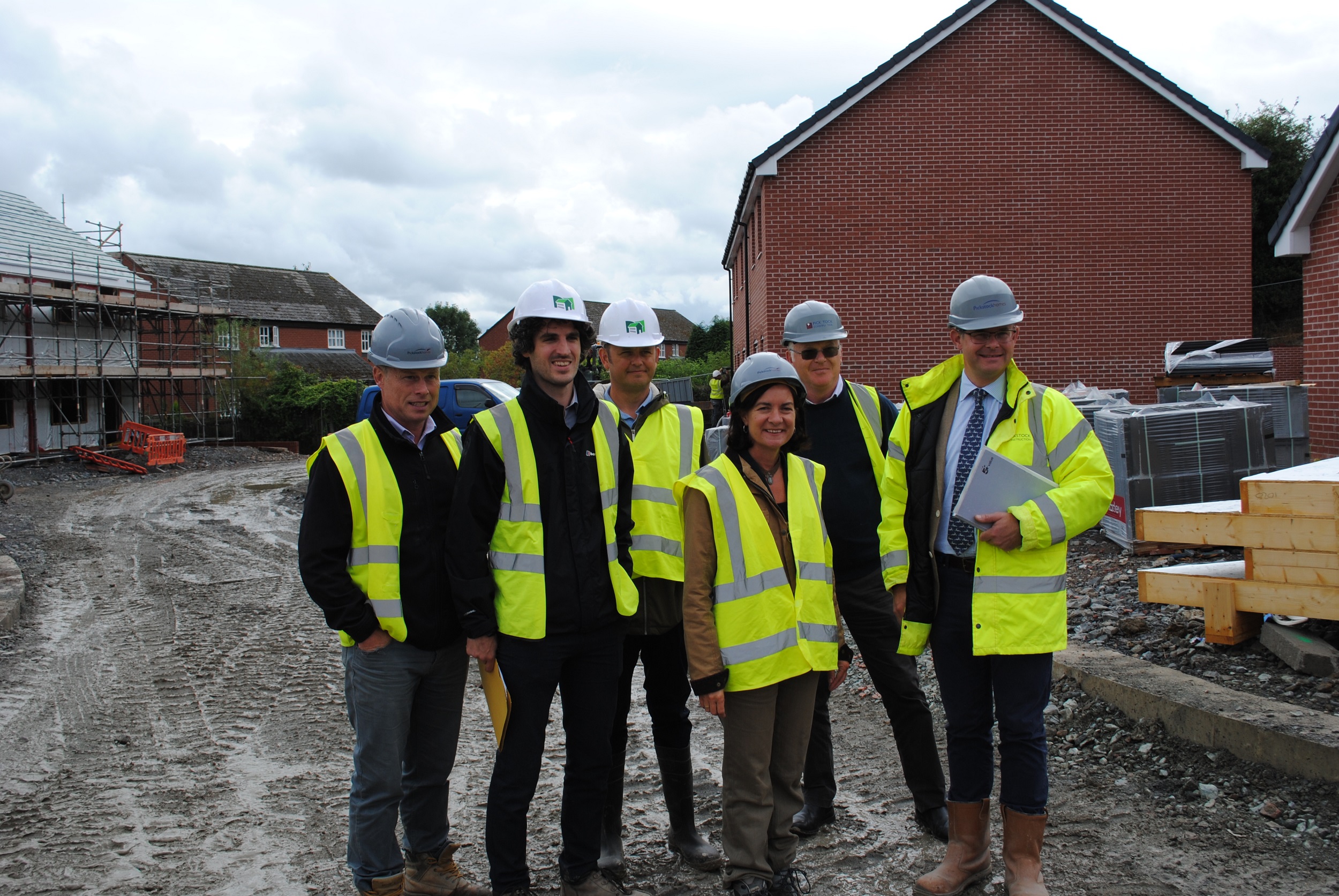 Pickstock Homes welcomes Welsh Minister to Gungrog
Pickstock Homes and Mid-Wales Housing Association were delighted to welcome Eluned Morgan AM, Minister for International Relations and the Welsh Language, to the Gungrog housing development in Welshpool on her recent visit to the area.
Pickstock Homes is overseeing the construction of Clos Gungrog and Bron Gungrog, comprising 54 homes of two, three and four bedroom properties, including nine two bedroom bungalows. Fourteen of the homes will be available to buy under the Welsh Government's 'Rent to Own' programme, which is designed to help first time buyers on to to the housing ladder.
Eluned Morgan AM said of her visit:
"It was fantastic to visit the development and to see first-hand the great work being done here by Mid-Wales Housing Association and Pickstock Homes Ltd. For many young people, the idea of home ownership has seemed an almost impossible challenge. The Welsh Government knows how tough it can be and is committed to giving support where it matters.
It was great to see that 14 of the 54 properties on the Clos Gungrog and Bron Gungrog project being built under our Rent to Own Programme – an initiative designed to support those who can afford to buy, but are struggling to secure a deposit.
I'm proud that we're leading the way in developing new co-operative and mutual solutions to housing needs, making more and more properties available for rent and part-ownership across both urban and rural parts of Wales, through a wide range of innovative support programmes."
All properties at Clos Gungrog and Bron Gungrog will have private gardens and will be built to the most modern standards of thermal and energy performance.
Nick Scott from Pickstock Homes said: "Pickstock Homes has enjoyed working in close partnership with Mid-Wales Housing Association to assist in the delivery of this exciting new residential scheme serving the local community in Welshpool. Construction work is progressing well and we're looking forward to handing the first phase over for new residents to move in shortly."