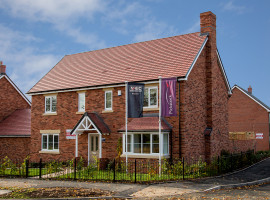 Contemporary homes in the heart of the village
A recent study has shown that country living is better for your health. According to experts from the British Heart Foundation, being in the country is better for you, in terms of air pollution and less risk of damage to lungs and heart from vehicle emissions.
Add to that the positive wellbeing from being surrounded by open fields and countryside – and the opportunity to make the most of all that fresh air – and it is no wonder that more house hunters than ever are looking to make the move to more rural and village locations.
Irvine Gardens, the ever-popular Pickstock Homes development in the heart of St Martins, located in the North Shropshire countryside, offers all these health benefits and more.
Irvine Gardens is situated within a friendly village community with good schools and local amenities within walking distance. The development is built on a conveniently located and spacious site, with views of the Shropshire countryside and Berwyn mountains beyond.
There are just a handful of properties left to buy following the release of phases three and four, as the development nears completion. These include a select choice of two, three and four bedroom detached and semi-detached homes to suit all buyers, from first time buyers to growing families.
All Pickstock Homes' new properties are available to buy from plan, which means you can choose your kitchen, tiles, flooring and so much more. Pickstock Homes offers home buyers the very best internal specification, fitted as standard, on the current new homes market.
With Irvine Gardens you really can have it all: a contemporary home and the health benefits of rural life within a thriving village community. To make an appointment to visit our beautiful new show home, or to find out more about any of our properties at Irvine Gardens, contact the Pickstock Homes team on 01691 677940 or visit www.pickstockhomes.com